Tribe of Dawn
A downloadable game for Windows
Fleeing the dangerous night, your tribe must keep moving and protect its sacred beast.
The other tribes were disbanded, only the Tribe of Dawn remains. Will it be able to reunite them ?

Tribe of Dawn is a nomadic, strategic survival game, focusing on movement and spiritual connection.
You will control a tribe that is living on a Sacred Beast, which is fleeing from a dangerous night, and thus, continuously moving around the world.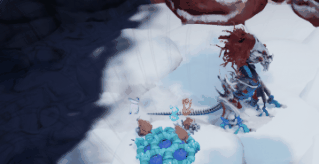 The night is infested by the Gyre : an unknown material that corrupt every living being that get in contact with it.
You must avoid it at all cost, or your tribe will fall into the darkness.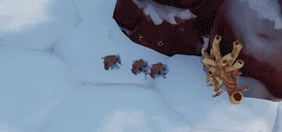 To maintain the Sacred Beast movement, you will have to gather Coral. You will also find Fruits, that will help your tribe working on the back of the creature.
Command your 3 Pilgrims to make them gather resources.

Build lodges on the back of the creature to provide different bonuses to your Pilgrims. You will have to maintain them with Fruits, but be careful, some of them are ephemerous.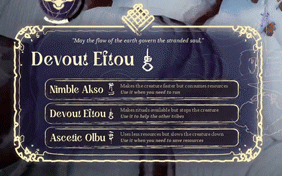 Your tribe has strong links with ancient gods. It sings perpetually to maintain the rythm of the Sacred Beast.
Choose between 3 Prayers at any time to change the pace of the creature :
- Nimble Akso will accelerate the Sacred Beast but will also increase the consumption of Coral.
- Ascetic Olbu will slow the Sacred Beast but will lower the consumption of resources.
- Devout Eftou will stop the Sacred Beast, but will allow the pilgrim to perform rituals...

During your journey, you will meet asynchronous Pilgrims, that are corrupted by the Gyre. They will try to steal resources from your Sacred Beast.
But you can help them by performing rituals : select the Prayer Devoted Eftou & your pilgrims, and click on the asynchronous Pilgrims. After a short time, it will be healed.
Try to help as much asynchronous Pilgrims as you can. It might help to figure out how to help this mysterious Beast you met before...

Credits
This game has been made in 4 months by a team of 13 students from the Cnam-Enjmin, with 2 external helpers.

3D Artists : Armel Morvan, Alice Rameau & Alice Grégoire
Game Designers : Ace Köhlmoos (System), Antoine Lima De Carvalho (Narrative) & Eva Rebillat (Level)
Programmers : Basile De Lamberterie, Aurélien Harcaut & Léo Viguier
Sound Designer : Antonin Terrien
UI Designer : Clara Toussaint
UX Designer/User Researcher : Valentin Posadas
Project Manager : Guillaume Angeli
Composer : Pierre Emmanuel de Martel
UI Artist : Yann Kukolewsky